CRTC CBC License Renewal: "equity-seeking communities" requirements
Of interest and thanks to Sarkonak for noticing this change and The Line for bringing it to wider attention.,
Significant change from softer encouragement to hard targets, one that suggests the government may adapt a similar approach to employment equity in the public service and possibly federally-regulated sectors (e.g., bank, communications and transport), even if the original policy based on self-declaration and annual reporting has resulted in a much more diverse public service.
I also think their caution that such overt political goals run the risk of undermining the perceived independence of the CRTC and the CBC, one that a future government may use for its own political priorities:
We at The Line have a confession: we don't slavishly follow every item coming and going out of the CRTC — although it is becoming increasingly clear that we ought to. So we admit that we missed, in June, the decision that came from this regulatory body that renewed CBC's broadcasting license for another five years. 

Because, frankly, this is usually pretty rubber stamp stuff.

So credit where it is due, we must tip the hat to Jamie Sarkonak for noticing some pretty significant changes in this renewal notice.

Jamie Sarkonak @sarkonakjThe CRTC @CRTCeng just imposed DEI requirements onto CBC programming. CBC must dedicate 30% of its independent programming budget to the following identity categories: Indigenous, language minorities, visible minorities, disabled, and LGBTQ. #cdnpoli crtc.gc.ca/eng/archive/20…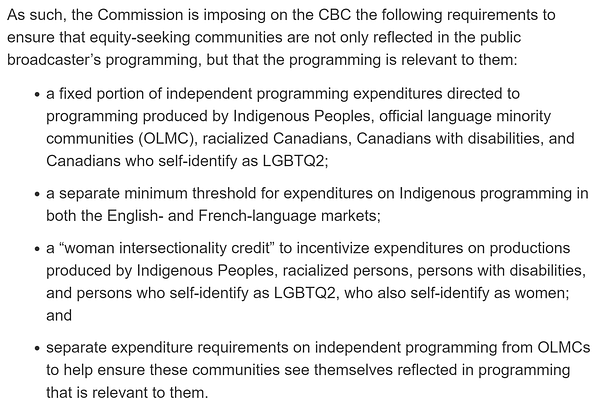 We read through the renewal notice ourselves and, yeah, she is correct. The CBC has a vague public mandate to inform and entertain Canadians for the purpose of creating a kind of shared national identity. Implicit in this mandate is the notion that the public broadcaster ought to broadly reflect and represent the Canadians who pay its bills. To that end, although previously the CBC could certainly choose to devote resources to "Canada's equity-seeking communities" (and it certainly has!) never before to our knowledge has it been required to devote specific expenditure requirements to those communities as part of its license renewal.

From the ruling:
"As such, the Commission is imposing on the CBC the following requirements to ensure that equity-seeking communities are not only reflected in the public broadcaster's programming, but that the programming is relevant to them."
The CRTC is demanding a "fixed portion of independent programming expenditures directed to official language minority communities (OLMC), racialized Canadians, Canadians with disabilities, and Canadians who self-identify as LGBTQ2." Additionally, it will grant a: "'woman intersectionality credit' to incentivize expenditures on productions produced by Indigenous Peoples, racialized persons, persons with disabilities, and persons who self-identify as LGBTQ2, who also self-identify as women."

There are additional requirements for French language programming, of course.

This line also caught our attention from the notice:
"The Commission supports the Government of Canada's commitment to renewing the relationship with Indigenous Peoples, based on the recognition of rights, respect, co-operation and partnership. On a broader level, the Commission also recognizes that Call to Action 84 of the Truth and Reconciliation Commission and the United Nations Declaration on the Rights of Indigenous Peoples (UNDRIP) tie into some of the objectives of the Broadcasting Act in that they refer to the reflection of Indigenous Peoples in the programming broadcast by the CBC."
The CRTC is demanding changes to the election of the CBC ombudsman to ensure he or she is "sensitive to issues surrounding Indigenous people, racialized Canadians and other equity-seeking communities."

It is also setting out "new expectations regarding the CBC's Journalistic Standards and Practices to help ensure that journalists can provide relevant feedback and equity-seeking communities are consulted in any future review of the JSP."

(The JSP is basically the bible of CBC journalism and guides its employees in how it approaches reporting, analysis and opinion. The JSP has come under particular scrutiny in recent years when it was alleged that the expectation of "objective" journalism would distort how the outlet approaches racism. Attentive readers will note the obvious allusion to "moral clarity" here.)

Whether or not you agree with the outcomes being sought, what is clear is that the CRTC (which is appointed by the governor general, on advice of the privy council) is having explicitly political goals written into its license renewals.

Now, don't misread us, here. The CBC ought to be free to pursue equity goals in programming, or reviews of its JSP, or whatever it feels necessary to meet its mandate according to its own discretion. We happen think these outcomes are best exercised by trusted leaders and experienced producers who have the latitude to use editorial discretion, rather than by rigid quota or expenditure goals.

To have these demands placed on it by an external regulator in order to fulfil the political goals of that regulator and, ultimately, its political masters, is playing with fire in the worst kind of way.

For starters, one of the first pieces we ran here at The Line was from a documentary filmmaker who noted the ways in which diversity quotas shifted incentives in filmmaking. Just as students write to the test, quotas of this sort shift the focus in content production, forcing creators to produce content that checks a box, rather than fulfil a real audience desire. This creates a CBC that is dooming itself to be less relevant to the general public even as its relevance is growing more crucial thanks to the economic collapse of private media. The system is all the more insulting considering there is, in fact, a real audience desire for different voices and perspectives in our media landscape.

(The Line can think of two such examples of CBC shows that were compelling and worth watching regardless of their diversity requirements: check out Sort Of and Trickster if you haven't already. Unfortunately, the latter was cancelled when it was revealed that director Michelle Latimer was not as Indigenous as previously stated.)

The second most obvious problem with all of this falls under the maxim "Do not give your enemies the weapons they will use to kill you." In other words, having established this norm, do you not think that Prime Minister Pierre Poilievre, having done his damndest to stack the CRTC, will not do the same thing in turn? What is the CBC going to do when its license renewal is subject not to fulfilling the requirements of UNDRIP, but rather to concepts like "viewpoint diversity" and "journalistic objectivity," as defined by Poilievre's crew? The pendulum always swings back, friends, and it usually swings back harder when pushed.
Source: The Line Dispatch 13 August